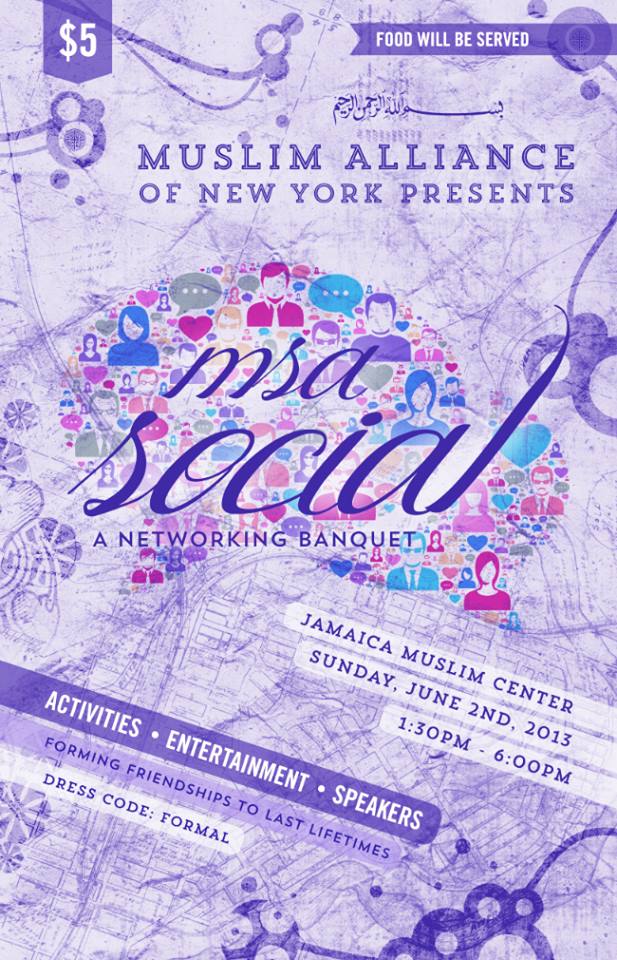 Peace and Blessings Be Upon You All,
The Muslim of Alliance of New York invites all high school Muslim Students' Association members to the first annual MSA Social event, on June 2nd, 2013. As we approach the end of the 2012 – 2013 school year, we would like to invite you all to formally meet one another, take a tour down MSA memory lane, listen to inspirational talks, while engaging in the biggest youth discussions of the year.
From the wide array of activities and speakers, to our special guests and performers, we invite everyone to experience a new social atmosphere where we will dive into the true meaning of unity, by getting to truly know one another. This is an event you do not want to miss!
There will be an entrance fee of Five dollars. This will help to cover the costs of the event, which  includes a delicious meal, as well as desserts, for you to enjoy. Seats may run out, so please punctually arrive at 1:30pm to register and have a great experience!
RSVP via the Facebook event here. 

Please make sure you are added to the Muslim Alliance of New York  Facebook group first.  
New MSA's and schools who do not have MSA's are more than welcome to attend. This is an event open to all. Please do come!
In addition, various college MSA representatives will be giving tips, views, and a guidance to college MSA's. If you're interested in learning more, they are available to converse with throughout the entire event.
This is the event you have been waiting for! You're welcome to bring guests, and we hope to see you there!
Peace to All,
The Muslim Alliance of New York
Trackback from your site.